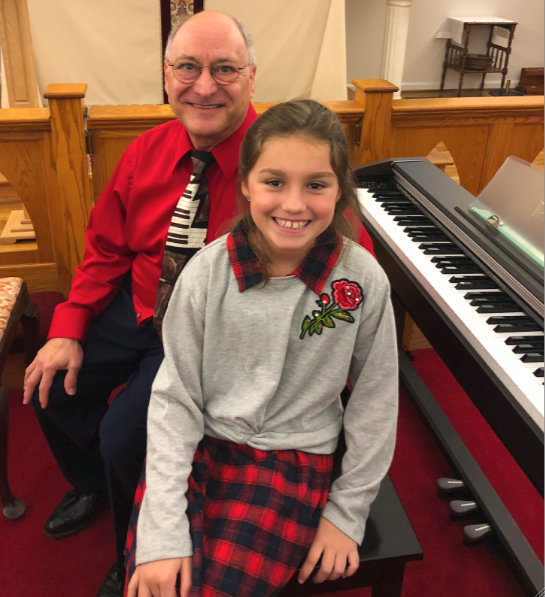 A Personal Sketch of James Weinberg, Music Teacher

I've worked for local churches of every major denomination as an accompanist, organist and choir director. Since 2006, I have been the organist at Holy Cross Anglican Church in Franklin.

My wife of 49 years, Carol, and I have two grown children, Benjamin and Rebecca, and two cats named Monte and Carlo. In our spare time, you can generally find us at home in Brentwood gardening and landscaping.
James' Music Studio, LLC is a sole proprietorship owned by James A. Weinberg and registered with the Tennessee Secretary of State as a Domestic Limited Liability Company. Articles of Organization are on file with the Williamson County Register of Deeds. Google Map

MAIN INDEX


A native of Rochester, New York, I began piano lessons at age 5 with my mother. Into my teens I studied at several prominent private studios including the famous Eastman School of Music. I also played brasswinds (trumpet and trombone) in school band. After high school, I entered SUNY Fredonia as an organ major, transferring to Stetson University in Deland FL. While raising a young family, I entered Peabody Teacher's College in Nashville. Later I trained as a Navy broadcast journalist, and once a civilian again, I spent five years as a classical radio announcer & producer at WPLN.

In 1985, I completed a bachelor's degree in church music at Belmont University (cum laude) and returned for a master's in music education, conferred in 1991. The area of emphasis for my M.M.E. degree was Elementary/Primary Pedagogical Methodology (translation: how to teach music to kids in K-8). My internship was at Montessori Academy in Brentwood teaching preschool through 6th grade. From 2000-2007 I was a staff instructor in piano and organ at Belmont Academy, as well as a vocal coach. Then in 2008 I launched my own business--James' Music Studio--based in my church. Later I expanded to The Classical Academy and Williamson County Parks & Recreation. Nowadays, I strive to be the best piano teacher in Williamson County!

Mr. James is listed in the