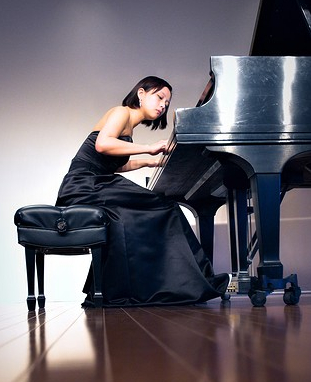 Q: Must I purchase a "real" piano--one with hammers and strings?

Quality grand pianos start around $20,000. They require a large floor space and regular maintenance. Tunings currently run anywhere from $80 to $120 and are recommended twice a year (at season changes). If you can afford it, great! There are excellent selections at Miller Piano Specialists (next to Sperry's) and Lane Music (just off Moore's Lane).

If this is a bit pricey for you (especially if you are buying a first piano for a new student), an upright acoustic is a good alternative, although a decent sounding upright costs $5,000. Electronic pianos (aka "digital keyboards") take up much less room, require NO maintenance, and there are several excellent models with built-in cases for under $1,500. Smaller portable models with features sufficient for beginners such as the Williams Allegro 88-Key Digital Piano start at $300. For a couple hundred more, a Casio PX-150 or Yamaha DGX series is a sounder long-term investment.

Q: Will an electronic keyboard be okay for learning piano?

A: Many of my students have electronic keyboards. It's best to buy one with weighted, touch-sensitive keys. I also strongly recommend models with at least 5 octaves and a jack for a sustain pedal attachment. If buying a pedal, I recommend either M-Audio or Acorn brands. These are sturdy universal pedals for around $25 shaped just like the pedals on an acoustic piano. Auxiliary equipment such as seat, X-stand and power adapter are a minimal expense.

When shopping around, feel free to contact me with any questions about the models you find. Check out these local stores with good selections: Music & Arts (near P.F. Changs), The Guitar Center (by Publix), Best Buy and Costco (also in the Cool Springs area).